Lucas, Denning & Ellerbe, PA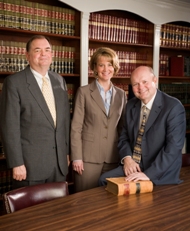 Helping people receive justice has been the Lucas, Denning and Ellerbe, P.A. (LDE) standard for the past nearly 30 years. Founded in 1979 by Robert (Bob) V. Lucas, LDE has built its reputation by providing personal attention to its clients and producing results.
Our emphasis on personal attention and real results has helped our firm grow and has built the confidence of our clients.
"When I began to build a practice here in Johnston County in 1979, I knew I would need to provide outstanding service and results as well as build connections with people, their families and the community in order to be successful," says Bob Lucas, founder, president and managing attorney.
Over the years, LDE has had a series of successes that have helped us build our reputation as the "go-to" firm in Johnston and surrounding counties. Our firm has had a series of groundbreaking accomplishments, which include four cases that, at the time they settled, were the largest awarded settlements or verdicts in Johnston County history.
While we pride ourselves on producing big results for our clients, we do not measure success by simply obtaining large verdicts. Very often, satisfaction comes when a client receives proper medical treatment, compensation from lost wages or a not-guilty verdict in his or her case.
Regardless of the size and scope of a jury's or judge's verdict, we work tirelessly to ensure our clients receive top-notch legal representation that includes close attention to detail.
Throughout the past nearly 30 years, our firm has experienced big results on behalf of our clients. Click here to read about some of our past and recent successes.
We are standing by and ready to discuss your legal needs with you today. Click here to schedule a free consultation with one of our attorneys to determine whether our firm can serve you.
GET PROFESSIONAL LEGAL ADVICE
If you have a legal question, concern, or would like to schedule a consultation simply fill out the form below. If this is an urgent matter please call 919-965-8184
SMITH FIELD DWI ATTORNEY
ROBERT DENNING
DO YOU NEED A DWI ATTORNEY?
Every state has some sort of "drunk driving" statute. The term "drunk driving" is in quotes because none of these laws require that you be "drunk" or "intoxicated" to be guilty. All that is required is that your ability to operate a vehicle has been impaired to any extent at all or that your Blood alcohol level exceeds the state limit (which is now .08% in all states).
A DWI LAWYER CAN HELP...
ASSESS YOUR LEGAL SITUATION
An experienced DWI Defense lawyer can help you understand what you are up against and the fines you may be required to pay. A DWI lawyer mostly deals with DWI matters and knows the process inside and out – including options that a public defender may not tell you.
EXPLAIN THE CONSEQUENCES
The consequences of a DWI vary greatly from state to state and a DWI lawyer will be able to explain how those consequences in your state apply to you such as (1) harsher punishments for those arrested with BAC limits over .08, (2) special laws for underage drivers arrested for DWI, (3) possible community service or plea bargaining, (4) overlapping jurisdiction of Courts and your state's motor vehicle licensing department to suspend or revoke your license, and (5) contingent license programs that allow you to use your vehicle to get to and from work.
MANAGE THE PROCESS
Dealing with the motor vehicle department can be frustrating and time consuming. A DWI Lawyer can manage the process for you by completing the required forms; making phone calls; scheduling and/or representing you at a Motor Vehicle Department suspension hearing, and making other necessary arrangements.
REPRESENT YOU IN COURT
An experienced DWI Lawyer knows the ins and outs of the courtroom and may be able to obtain a lesser sentence for you if your situation and state law allows for it.
DON'T KNOW IF A DWI LAWYER IS RIGHT FOR YOU? HERE ARE SOME GENERAL GUIDELINES:
DEFINITELY
Definitely hire a DWI Lawyer if you already have several DWI's and receive another; or if your DWI arrest was the result of an accident or if anyone was injured; or if you are a professional driver whose livelihood depends on keeping your license.
PROBABLY
Seriously consider hiring a DWI Lawyer if you've been arrested for a second DWI (in the same or another state) or were arrested with a BAC limit over double the legal limit as harsher penalties may apply.
MAYBE
You might want to hire a DWI Lawyer in Smith Field, NC if you don't understand your rights or DWI laws, what you need to do, or the consequences you face. You also might want legal representation if you are in a profession (or plan to be) that requires bonding or in which any criminal conviction might prevent you from getting or keeping a professional license. If you don't know the requirements, then you need expert advice before handling the case yourself.
Talk to a Smith Field DWI Lawyer Today!
Contact Lucas, Denning & Ellerbe, P.A. Law Office at 919-965-8184 or via email with the form below.
Legal Disclaimer: The information above is presented as an advertisement. This website is provided solely for informational purposes and is not intended to create an attorney-client relationship between you and the attorneys. Any form of communication with us does not create or establish an attorney-client relationship. Images have been licensed through Green Tie Consulting.